Agribank awarded a VND 1 billion savings book to lucky customers
NGUYỄN ĐỨC TUẤN - 12/04/2019
Agribank awarded a VND 1 billion savings book to lucky customers
The First Special Award Ceremony The Savings mobilization program to win "Big winnings with Agribank" has just been organized by Agribank in Binh Dinh. 1 VND 1 billion savings book of Agribank was awarded to Mr. Le Van My - a member of Agribank's Board of Members, depositors at Agribank Hoai Nhon district branch - Binh Dinh lucky winner First Special Prize of the Program.
Savings program for "Big winnings with Agribank" is implemented from January 30, 2019 to the end of May 3, 2019, for customers to deposit with the total value of prizes up to VND 12.5 billion. Customers will have the opportunity to win 2 Special prizes: each prize is 1 Savings book worth 1 billion VND; 05 First prizes: 1 Savings book worth VND 20 million each; 20 Second prizes: 1 savings book worth 10 million VND each; 40 Third prizes: 1 book for each prize worth VND 5 million and 20,000 Lucky prizes: VND 0.5 million each.
In addition to the attractive prizes when participating in the program, customers are able to use many of the preeminent utilities and advantages of Agribank such as: Domestic remittance service, Bill payment (electricity, water, tuition ...), card products (Success, Visa, Master, JCB ...), e-banking services (Internet Banking, Mobile Banking), insurance products (ABIC) ... with many other incentives from Agribank.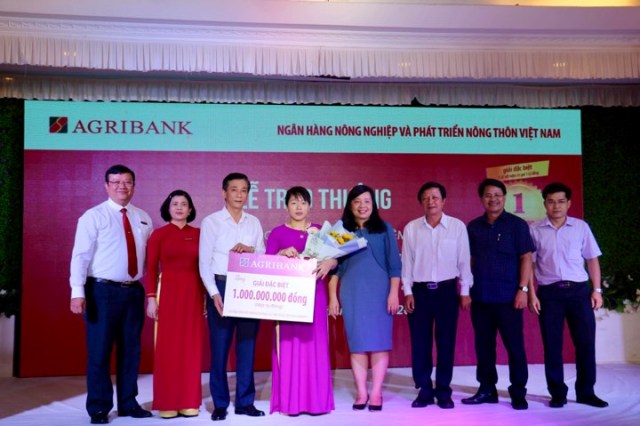 Savings program of "Big winnings with Agribank" is implemented from January 30, 2019 to the end of May 3, 2019
The results of the first prize drawing were organized by Agribank and the Capital Lottery Company on March 19, 2019, identified customers Le Thi My Huong, winning code series 0676927, deposited money at Agribank. Hoai Nhon - Binh Dinh district branch is the customer who won the 1st Special Prize of the Program. The second prize drawing is expected to be held on 7 May 2019. In particular, customers with prize codes who participated in the first prize drawing will continue to have the opportunity to participate in the 2nd prize drawing (including the winning code).
At the awarding ceremony, Ms. Le Thi My Thuong said that receiving the Special Prize worth 1 billion VND from Agribank is the family's joy. Next time, she will continue to save money at Agribank, and mobilize her relatives and friends to become traditional customers of Agribank because she will be able to use many multi-utility services, safety and security. High profitability and there are many chances of lucky win. Ms. Thuong also expressed her wish that Agribank will deploy more bonus savings programs to continue bringing good luck to participating customers.
Speaking at the awarding ceremony, Mr. Nguyen Van Minh, Member of Agribank Board of Members congratulated the winning customers, and affirmed that Agribank's capital was mobilized through organizing the bonus savings mobilization programs. use investment in agriculture and rural development and the national economy in the most effective way.