Bridgetone Group inaugurated the first tire factory in Vietnam
NGUYỄN ĐỨC TUẤN - 09/04/2019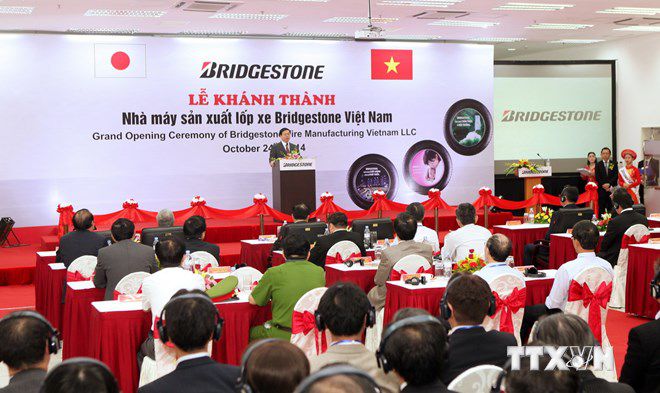 (TBKTSG Online) - On October 24, Bridgestone Vietnam Tire Manufacturing Company (a member of Japan Bridgestone Corporation) inaugurated a radial tire factory (tubeless tire) located at the public park. Dinh Vu, Hai Phong.
Tetuo Kunitake, general director of Bridgestone Vietnam, said that at the time of opening, the factory had an investment capital of nearly 448 million US dollars and had 1100 employees with an output of 6000 car tires a day.
In the short term, automobile tire factory serves export to Japanese market. Later, the company will export more to other countries such as Europe, South America and consumption in Vietnam market ...
Tetuo Kunitake said that by 2015, Bridgestone Vietnam will expand the factory twice as much as it is now, by the end of this year, 10,000 tires will be produced a day. It is expected that in the first half of 2016 the factory will have 1900 employees and produce 25,000 tires a day. In the second half of 2017 Bridgestone Vietnam will have 3800 employees and produce 49,000 tires a day.
Speaking at the opening ceremony, Mr. Duong Anh Dien, Chairman of Hai Phong City People's Committee, said that the investment project of Bridgestone Vietnam factory in Dinh Vu industrial zone has the largest capital invested in Hai Phong, calculated Up to this point. He said the project pledged to invest US $ 1.224 billion.
Mr. Masaaki Tsuya, CEO of Japan Bridgestone Group, said that the products of Bridgestone Group were sold in 150 countries around the world and Bridgestone had a tire trading company in Vietnam since 2010. The Group currently has 50 factories in 21 countries; The factory in Vietnam is a large-scale factory and of international stature and quality standards.