LG invests in high-end LCD TVs
NGUYỄN ĐỨC TUẤN - 12/04/2019
Under the pressure of Chinese LCD TV (LCD) suppliers, LG Electronics is strengthening its leading power in the high-end LCD TV market.
LG has gained much attention in the LCD TV business in recent years and currently occupies a sizable market share in this market. Currently the company is planning to expand its market share and launch new LCD TVs with upgraded technology every year.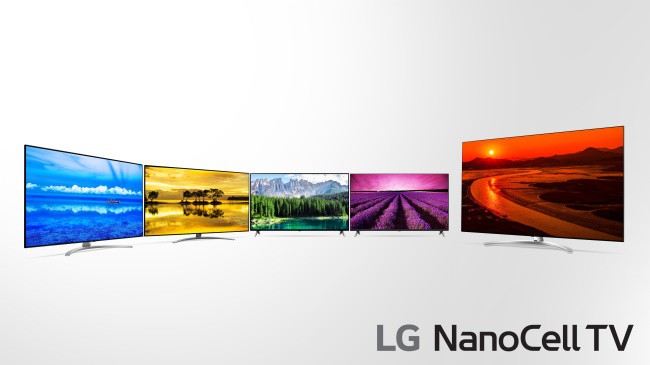 LG is promoting Nano Cell technology on high-end LCD TVs
Of the 218.8 million LCD TVs shipped worldwide last year, LCD TVs from Korean TV makers LG and Samsung Electronics accounted for 67 million, or 30.6% of the market share ( According to IHS Markit statistics).
For the first time, Chinese TV manufacturers surpassed Korean companies with 31.2% market share of LCD TVs.
To make a difference from Chinese LCD TV manufacturers, LG is promoting the exclusive Nano Cell display technology and Deep ThinQ deep learning algorithm platform on high-end LCD TVs.
LG Nano Cell TVs have fine particles of about 1 nanometer, precisely correcting color waves on the LCD screen, reducing distortion, increasing color accuracy and image quality at every viewing angle.
The latest model is equipped with a second-generation Alpha 7 processor, which enhances picture and sound quality.
LG has reduced the price of its LCD TV models by about 20% this year, with the aim of maintaining its market share in the LCD market. In the Korean market, the 75-inch Nano Cell TV costs 5.5 million won ($ 4,810), while the 65-inch version costs between 2.49 million and 2.99 million won.
In the second half of the year, LG will launch the 8K LCD TV with 8K OLED TV.
Nano Cell technology is optimal for 8K monitors, so the company will equip it with many other LCD TVs of 70 inches or more this year.
Kwon Bong-seok, LG's family entertainment president, said: "LG will take stronger actions to maintain the lead in the high-end TV market - including OLED and LCD. High-end LCD TVs with Nano Cell technology will create a bigger breakthrough in the market this year. "
In a survey of Choice, a magazine for Australian consumers, LG Nano Cell TV took the top position among 10 LCD TVs (including Samsung and Sony) with a total of 86 points on high definition images. , standard resolution, sound quality and control.